Garlic harvest season on Ly Son island
Thursday, June 18, 2020
The garlic growing season in Ly Son starts from September last year, lasting for about 5-6 months, harvesting from March to March next year. Farmers are now entering the harvest. Across the field of garlic crowded farmers transported, uprooted garlic onto the car, promptly dried and sold to traders.
Mr. Le Van Ninh, Vice Chairman of Ly Son District People's Committee, said: "Ly Son district has nearly 327 hectares of garlic being harvested, yield of 80 quintals / ha, nearly doubled over the previous year. Favorable weather, so the garlic is high quality, big, regular and beautiful. Prices are at an average and stable level of 40,000-50,000 VND / kg ".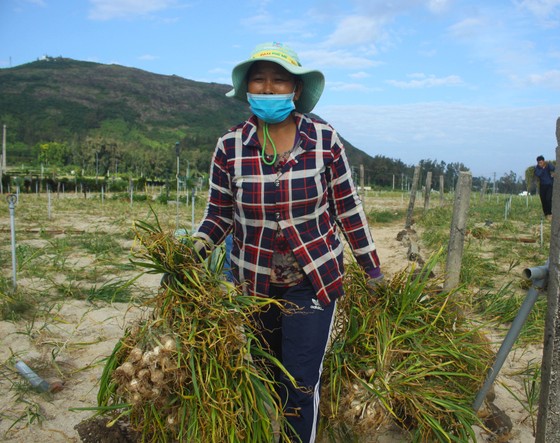 Mr. Pham Son (An Hai commune, Ly Son district) planted 3 sao of garlic, glad that this year the garlic field has developed well. He said: "This year the weather is favorable, pests are limited, there is no crop pest so garlic is very good. My house earned 1.8 tons of garlic, with the price of 45,000-50,000 VND / kg of fresh garlic, 80,000-90,000 VND / kg of dried garlic, my average earned more than 75 million VND / crop. "
Each garlic season, Mr. Son as well as many farmers on the island often leave a part of the same garlic to sow the next crop.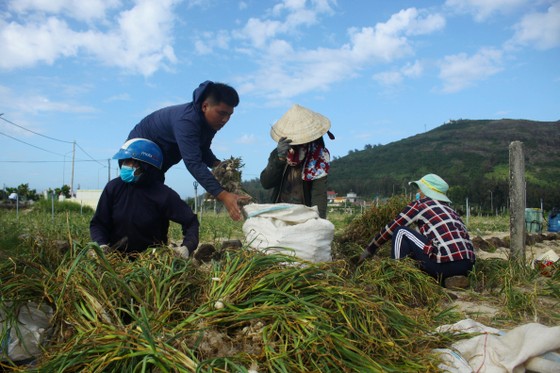 Mr. Pham Son also said: "This year, garlic has a good season so lonely garlic (one clove of garlic) is very small, like my field has collected less than a few kilos of lonely garlic".
Ms. Nguyen Thi No (An Hai commune, Ly Son district) planted more than 600m2 of garlic field, she collected more than 500kg of fresh garlic. She said: "The amount of revenue is too much compared to previous years so my whole family is very happy. The selling price is at an average level but the productivity and output increase also increase the income for the family ". Similarly, Mrs. Nguyen Thi Den (An Hai commune, Ly Son district) planted 1 sao of garlic, collecting about 400kg.
Ly Son villagers each harvest garlic are always in the field from early morning until late evening, those who pick up hired garlic are also paid 200,000 -250,000 VND / day labor.
With specific conditions of soil, climate, and the long-standing traditional experience of the people of Ly Son island, the garlic creates a unique garlic flavor, only in Ly Son island. For Ly Son people, when the garlic grows well, that season is very lonely. This year with people is a happy garlic season.
Ly Son farmers grow garlic very special, the land is made up of volcanoes and sea sand surrounding the island. Also according to the order of spreading the soil layer up to the sand layer, the layers of sand and shells, shells from the sea, bringing home the flavor of the island home.
Mr. Le Van Ninh, Vice Chairman of Ly Son District People's Committee shared: "Ly Son people only sell a small amount of garlic when they harvest it, then let it dry in the middle of the year to sell more. Ly Son garlic is like that every year. "