Hundreds of billions of revenue each year thanks to using shrimp by-products
Friday, December 13, 2019

The rapid development of shrimp raising and processing industry has brought a high export value accounting for a large proportion in Vietnam's seafood industry with shrimp production increasing year by year. In 2014, it reached 660,0000 tons and by 2018 the processed shrimp production reached 1 million tons to 160 shrimp processing enterprises and exported to 97 markets with a total value of 3.6 billion USD.
The majority of shrimp exports are processed in the form of peeled off the heads, the head rate accounts for 34 - 45%, the remaining shell accounts for 10-15% of the weight of raw shrimp so the amount of shrimp waste in Vietnam. an estimated 325,000 tons / year. The fast-growing shrimp industry has also increased the proportion of shrimp by-products, which can reach over 450,000 tons by 2025, equivalent to more than 1,000 tons of waste by-products removed from the production line every day. The amount of by-products will be released into the environment without investment in reuse research for animal feed and pharmaceutical industries ... The by-products from shrimp processing have been identified as a major source of protein, copper. It is also an important source for chitin and astaxanthin production. Over the years, techniques have been discovered in the extraction and recovery of highly bio-by-products such as fertilizers, animal feed, and aquatic feed.

Director of Dai Phat Mach Van Nhi Production - Trading - Service Co., Ltd. (Ba Nhoi) confided, he was born in An Giang, lived on the road and then he came to chitin production since the third son of He graduated from the University of Fisheries in 2004. With the desire to research and produce many useful products from the waste products of raw shrimp for export, at first, his son Mach Phi Long studied the production of chitin from failure of shrimp heads and shells, impatient, he switched to production research with his son. The company was established as Chitin Dai Phat Joint Stock Company. In 2008, knowing the market of raw materials, shrimp shells in Ca Mau was rich, so he decided to invest in Ca Mau. With the desire to create value-added goods and reduce environmental pollution, in 2014 the company changed its name to "Dai Phat One Member Co., Ltd" to produce chitin, water. fish sauce and animal feed ingredients.

In 2017, Dai Phat Export Trading and Production Co., Ltd in collaboration with the Institute of Biotechnology - Food Technology, Hanoi University of Science and Technology implemented the project: "Manufacture some products. food and animal feed from shrimp processing industry by-products "under the Project of Development and application of biotechnology in the field of processing industry to 2020. After more than 2 years of research and production, The project has successfully produced products: Chitin by biological methods, fish sauce from shrimp by-product protein, shrimp powder, shrimp meal supplement, shrimp feed attractant.
TS Project Manager Do Thi Yen said: In early 2015, Dai Phat Company coordinated with the Institute of Biotechnology and Food Industry, Hanoi University of Science and Technology to research and process Mach Long fish sauce from raw materials. , shrimp shells and anchovies by a closed process. In 2017, the company cooperated with the Institute of Biotechnology and Food Industry to implement a pilot production project of some food products and animal feeds from shrimp by-products. The success of the project has created a product of Mach Long fish sauce, shrimp powder, attractant DT18. In addition to the chitin production equipment, from 2017 to 2018, the company has invested in installing production lines and currently the fish sauce production line reaches 600,000 liters / year, 01 production line for shrimp and 02 fluids shrimp powder line with a total capacity of 350 tons of raw material / day. Especially, the DT18 attractant used in aquatic feed is consumed in the domestic market and exported by the Thai Corporation to the Chinese market.

From the support budget from the Ministry of Industry and Trade to product development, up to now, Dai Phat Co., Ltd has been proactively funding many times more than the budget allocated for mechanical investment. infrastructure, equipment systems, workshops for product development. Currently the company's monthly turnover of 15-17 billion.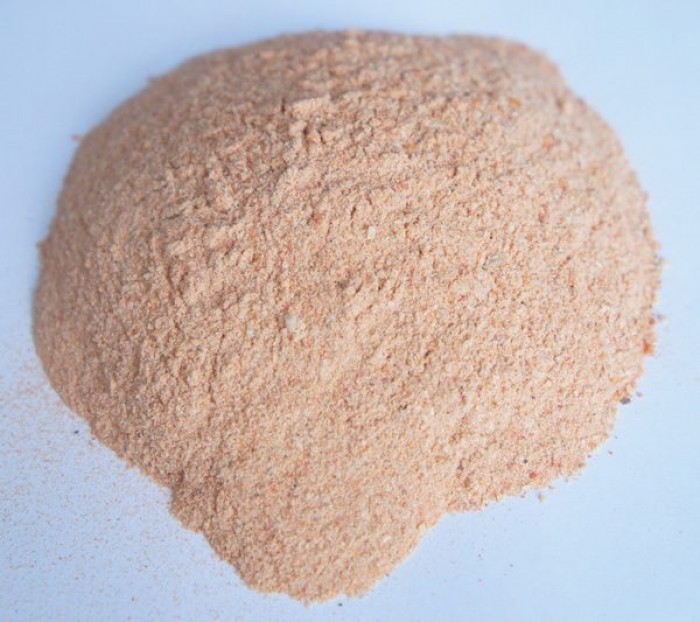 Not only bring high economic value, create jobs for hundreds of workers, take advantage of shrimp by-products also contribute to addressing the emerging environmental problem in the shrimp processing industry. In the coming time, the company aims to coordinate with the Institute of Biotechnology and Food Technology, Hanoi University of Science and Technology to develop and create added value for raw materials and waste from seafood, aiming to become a company. Leading in Ca Mau Province on processing shrimp by-products and other aquatic by-products, TS Dang Tat Thanh, assistant team of the Project Steering Committee, commented: "This is one of the successful projects of the Project on Development and Application of Biotechnology in the Processing Industry to 2020 of the Ministry of Industry and Trade. Trade has found the practical directions and encouraged businesses to invest funds and technology applications to bring high-quality product market ".